---


The Colts and Geldings of Azria Arabians
---

Colts
---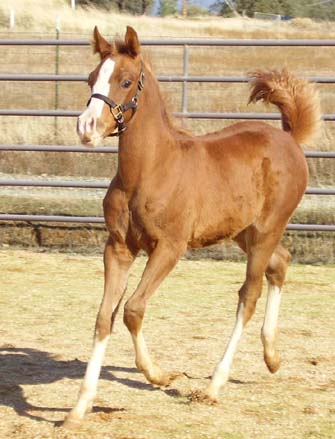 Azria Auracle
2008 Chestnut Colt
(MAGIC AULRAB X
FV HOT AFFAIR
)
Our newest addition is a lovely, flashy colt who arrived on Aug. 10, 2008, nicknamed 'Zip'.
More info
---

Geldings
---
We have no geldings at this time.
---


A horse is a thing of such beauty...
none will tire of looking at him as long as he displays himself in his splendor.
-Xenophon
---


Azria Arabians
209-245-3929
Plymouth, Calif.
Home
Stallion
Colts & Geldings
Mares & Fillies
For Sale
Links
Contact Us
---
Free Graphics provided
by Ever Eden Design