---


Flash of Magic
---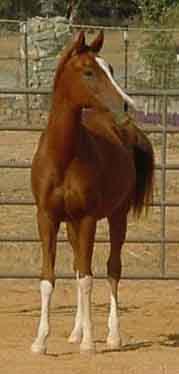 Reference Sire
#596923
Chestnut Stallion foaled June 9, 2002
Bred by Janice Siders, Diablo, Calif.
SCID Clear
CMK (Crabbet / Maynesboro / Kellogg)
60.7% Crabbet

---
Flash was our upcoming junior stallion. He had excellent conformation, superior movement and an absolutely wonderful disposition. His pedigree reinforced many of our favorite old horses while adding a bit of an outcross.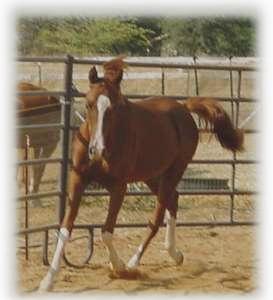 Sadly, we lost Flash in July, 2004. Flash will be greatly missed but we are thankful for the time we had with him.
At our first schooling show Flash won 1st - Sporthorse In Hand, 4th - In Hand Trail against horses of all ages!
---
As A Sire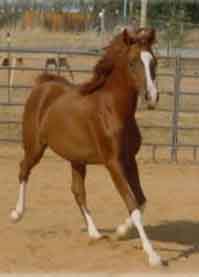 Flash left behind only 2 foals, a colt and a filly, both foaled in May of 2005. Azria Pele, has an incredibly sweet, people oriented disposition and has loved attention from birth. We are retaining her for our herd. She is one of my husbands favorites! Azria Magician, while gray, shows much of Flash's look in overall style but perhaps has a more nicely shaped head. He has lots of trot and has developed into a good sized, good boned, well balanced horse.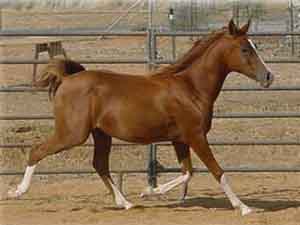 ---
Pedigree for Flash of Magic
Sire
MAGIC AULRAB
500209
C 1993
AULRAB
194466
C 1979
AURAB
12488
C 1957
AULANI 1801
RIFNAS 924
FOLLYAT 827
RABNA 3622
NARZIGH 1745
RABKHAL 1402
ALARIEHA
34649
C 1965
GALAHAS 20950
TAHAS 7200
MY GALA 9750
RIEHABA 6539
ABU FARWA 1960
AMRIEH 2668
PHYLLIS DREAM
195187
C 1979
*LEWISFIELD MAGIC
28001
C 1964
INDIAN MAGIC GSB
RAKTHA GSB
INDIAN CROWN GSB
*MICHELIA 27098
COUNT ORLANDO GSB
RISSALMA GSB
AURA DE AUR
106934
B 1974
AURAB 12488
AULANI 1801
RABNA 3622
DIENS 54603
AURENS 27638
DIONY 23996
Dam
STARLIGHT WE
498700
C 1993
BRACE
394492
B 1987
JA MAGNIFICAT
179638
C 1978
*BASK 25460
WITRAZ PASB
BALALAJKA PASB
QUEEN MARGARETTA 31927
*PRINCE ZAIM 25722
ZAMMARA 6771
HILILLA
119300
B 1975
EL HILAL 35261
*ANSATA IBN HALIMA 15897
*BINT NEFISAA 23223
LA BELLE FILLE 39759
ABUZIM 6501
LUNDYS CAYUGA 10618
TWILITE
266700
C 1982
*ERROS
167694
C 1973
EL PASO PASB
CZORT PASB
ELLORA PASB
ESKAPADA PASB
NABOR PASB
ESTOKADA PASB
TW SILVER DAWN
159232
G 1977
SOTEM 72393
SOTEP 8385
WEE ACRES METO 17886
SMS LATIFA DAWN 104156
EL MAGATO 19276
HERITAGE AGNEAU 32717
Return to top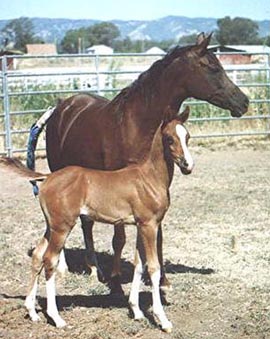 Bloodline Percentages
Crabbet/Blunt = 60.6933
GSB (incl. Crabbet) = 65.0235
Davenports = 5.92041
Polish = 23.0302
Egyptian = 39.8117
Russian = 3.125
WK Kellogg = 27.8808
CMK = 74.7802
Dickinson/Travelers Rest = .390625
Abbas Pasha Source = 29.776
Doyle = .19531
WR Brown/Maynesboro Stud = 24.4141
Patton (Remount) = 3.90625
Old Babolna (pre-WW II) = 5.42927
North American Desert Source = 6.433105
Early American Foundation (vol V) = 57.03125
American (thru vol VIII) = 59.375
American (thru vol XV) = 87.5
Mesaoud = 14.21507
Raffles = 3.027345
Skowronek = 7.592775
Percentages and research copyright by Eva Dano
Glossary: http://www.meranch.com/books/pctgs.htm
---