---


Azria Magician
---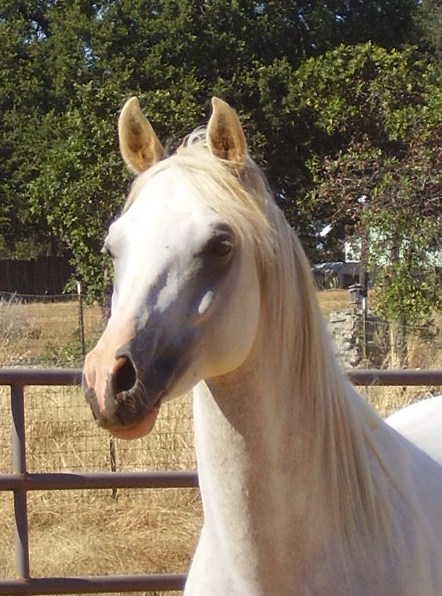 #627506
Grey Gelding foaled May 14, 2005
Bred by Cynthia Feldman, Plymouth, Calif.
CMK (Crabbet / Maynesboro / Kellogg)
American Foundation
Tested SCID & CA clear
63% Crabbet

---
Azria Magician has an exceptionally nice trot and kind disposition. He is a very willing horse, wanting to please. As he is maturing, his head is showing a beautiful chiseled look.
Tag was sired by the young stallion, Flash of Magic, by Magic Aulrab. Magic Aulrab is known to have an extremely good trot that lends itself to sport horses disciplines as well as being a successful endurance horse with over 1,000 competition miles. His dam, Azria Raba, is a very kind and sweet mare of good body and substance sired by MV Soaring Wind who is by the stakes winning and endurance sire Nehalems Muhuli. 'Tag' certainly has a pedigree of known performance horses behind him. Double Aulrab, 4x Aurab, with other greats such as Abu Farwa, *Bask, El Hilal and *Erros to round out his pedigree.
Tag has been sold to Foresthill Ranch and we wish them much sucess with him and look forward to following his career.

---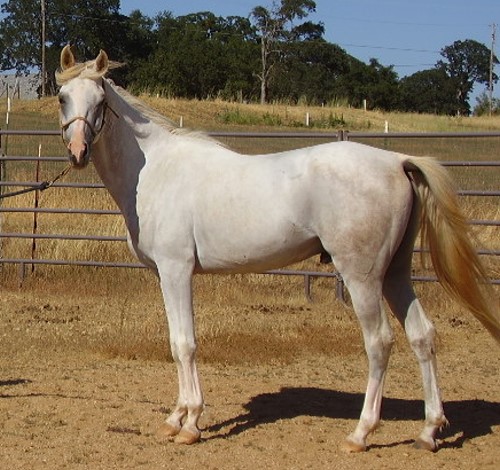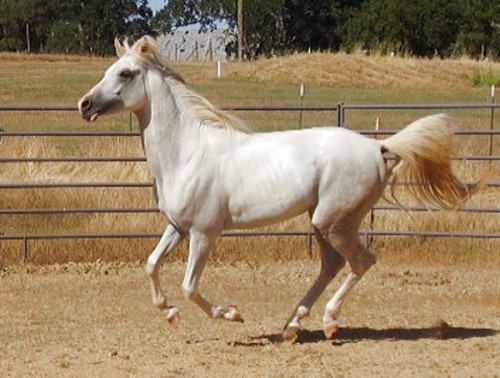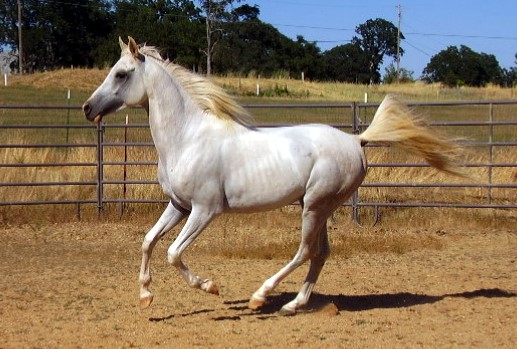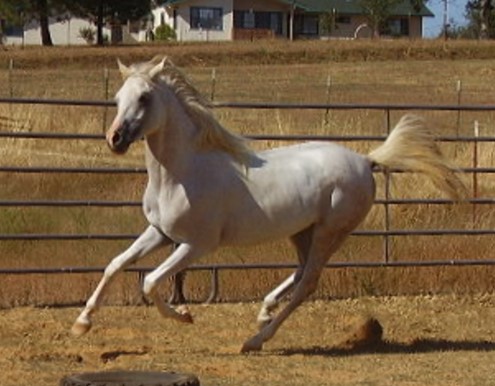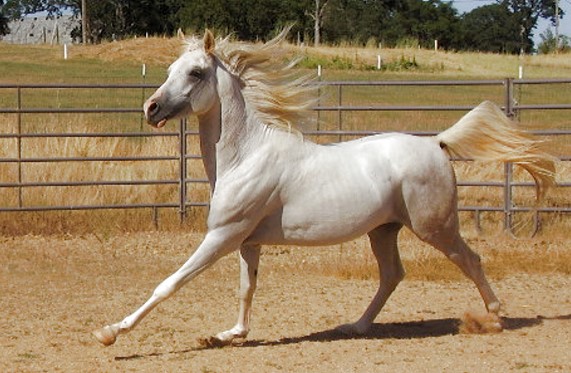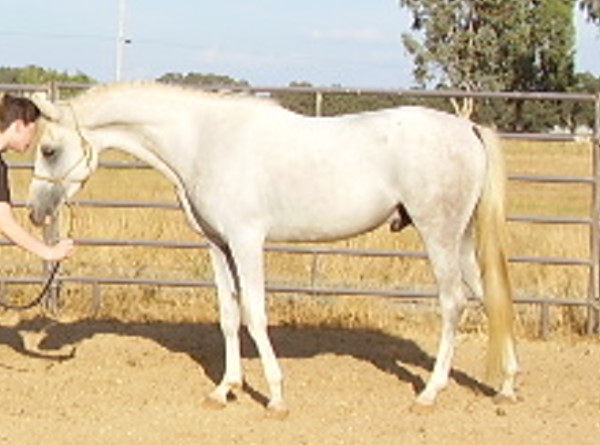 ---
Pedigree for Azria Magician
Sire
FLASH OF MAGIC
596923
C 2002
MAGIC AULRAB
500209
C 1993
AULRAB
194466
C 1979
AURAB 12488
AULANI 1801
RABNA 3622
ALARIEHA 34649
GALAHAS 20950
RIEHABA 6539
PHYLLIS DREAM
195187
C 1979
*LEWISFIELD MAGIC 28001
INDIAN MAGIC
*MICHELIA 27098
AURA DE AUR 106934
AURAB 12488
DIENS 54603
STARLIGHT WE
498700
C 1993
BRACE
394492
B 1987
JA MAGNIFICAT 179638
*BASK 25460
QUEEN MARGARETTA 31927
HILILLA 119300
EL HILAL 35261
LA BELLE FILLE 39759
TWILITE
266700
C 1982
*ERROS 167694
EL PASO
ESKAPADA
TW SILVER DAWN 159232
SOTEM 72393
SMS LATIFA DAWN 104156
Dam
AZRIA RABA
578106
G 1999
MV SOARING WIND
511400
C 1994
NEHALEMS MUHULI
254200
C 1982
MUHULI 11717
ABU FARWA 1960
FOLLYANNA 5193
RAFAANNA 130922
RAFFAMIRA 60423
BINT JEZAAN 54126
FV AULUARI
361024
C 1986
AULRAB 194466
AURAB 12488
ALARIEHA 34649
TABS ABUARI 170528
TABUAR 37881
SHAMROCK BEA 35017
FV KISHA
550109
G 1993
IBN FARLANE
321706
C 1982
FARLANE 12081
ABU FARWA 1960
ALLEYNA 2612
BEA-TEZ 95491
SHAHMUR 12365
SHAMROCK BEA 35017
KISSME PICO
357893
G 1986
BEN RABBA 29921
AURAB 12488
ROLLICKA 15286
KISHTEE PRI MOUN
MOUNRI 6918
KISHTEE PRIZA 22591
Return to top


Bloodline Percentages
Crabbet/Blunt = 62.53
GSB (incl. Crabbet) = 68.33
Davenports = 10.18
Polish = 15.07
Egyptian = 37.44
WK Kellogg = 35.63
CMK = 86.61
Abbas Pasha Source = 31.08
WR Brown/Maynesboro Stud = 33.13
North American Desert Source = 14.32
American Foundation (vol V) = 76.17
Mesaoud = 14.66
Barq sire line
Ghazieh (Abbas Pasha) dam line


Percentages and research copyright by Eva Dano
Glossary: http://www.meranch.com/books/pctgs.htm

---