---


MV Soaring Wind - Reference Sire
---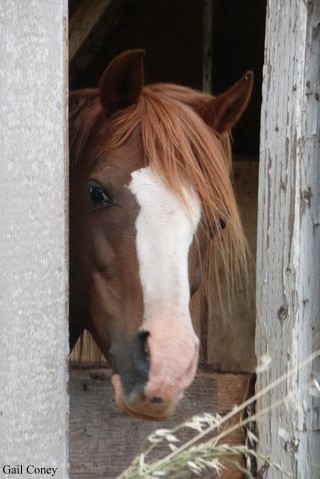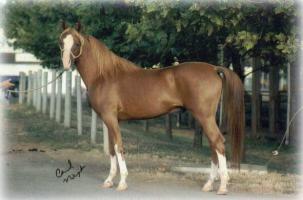 #511400
Chestnut Stallion foaled May 29, 1994
Bred by Marjorie Van Gilder, Wasco, Oregon
CMK (Crabbet / Maynesboro / Kellogg)
Early American Foundation
71% Crabbet
15.1 Hands

---
Wind has good balance and substance, a lovely shoulder and excellent, clearly defined withers. His strong hindquarters have extremely well shaped muscling tying well down into the gaskin. His coupling is smooth and strong. All this combined with substantial bone and correct legs make him an exceptional stallion.
Wind has a kind disposition making him an easy horse to live with. He is one of the steadiest horses of ANY breed I have ever ridden (except perhaps for his daughter, Raba!). He is calm, level-headed and non-spooky out on the trail and has kept us out of trouble on more than one occasion. He eats and drinks well when out riding and is willing to stand calmly tied for hours. He is a gentleman and extremely well mannered while breeding.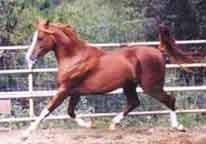 As A Sire
The foals Wind has sired, out of a variety of mares (both of varying types and breeds) have consistently been better than their dams proving his value as a sire. Noted Arabian historian and author Carol Mulder, who has seen a number of Wind's foals, had this to say about Wind, "He is a good and prepotent sire. He deserves to be a sire."
Wind's get definitely tend to inherit his calm, easy going attitude and are intelligent horses. They are easily trained and people oriented making them ideal family as well as performance horses . The colts have been big, strong, solid horses that should excel in performance disciplines. The fillies have good bodies, pretty, feminine heads and superb dispositions making them excellent choices for performance, breeding or family horses. Most of his chestnut foals have flaxen manes and 'chrome'. He has sired sabinos as well, which shows his true desert ancestry. Foals by Wind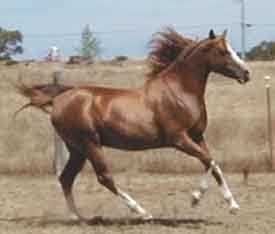 About Pedigree
Wind has a solid pedigree of quality Arabians of consistent type. Wind's sire, Nehalems Muhuli, was a very successful stakes winning race horse. He sired numerous successful race and endurance horses. His sire, Muhuli, was Oregon Park Horse Champion. Having seen old film of Muhuli, I was extremely impressed with his overall quality and beautiful way of going. Muhuli was by the great Abu Farwa. Wind's dam, FV Auluari is by Aulrab who was known for his beautiful action, was successful in the show ring himself and as a sire. Aulrab has get and/or grand get in Australia, South Africa, Canada and the U.S. His sire Aurab was perhaps one of the greatest Arabians ever foaled in the USA.
With a pedigree full of such high quality individuals of consistent type, it is not surprising that Wind is such a prepotent and consistently good sire. What goes in the pedigree must come out. View Pedigree
With the trend in modern Arabian breeding to pick horses that are 'living works of art' and to base breeding decisions on the current fad and the more extreme the better selection, the decline of good old-fashioned Arabian riding type is very noticeable. Many stallions, regardless of their own quality, are very inconsistent sires because of that breeding trend. The Arabian breed, once the source for quality to improve other breeds is, sadly, headed in the wrong direction. That is what has prompted us to become 'preservation' breeders. At Azria Arabians we like the classic, traditional Arabian for its user friendly disposition and athletic ability that make them a joy to own and ride.
---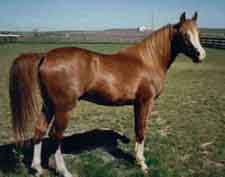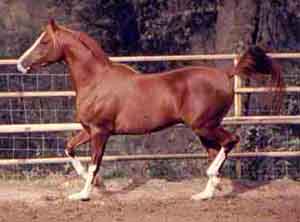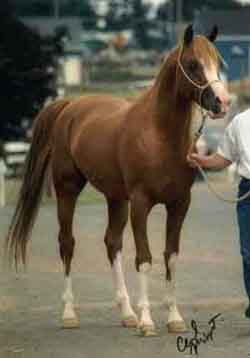 ---
Pedigree for MV Soaring Wind
Sire
NEHALEMS MUHULI
254200
C 1982
MUHULI
11717
C 1957
ABU FARWA
1960
C 1940
RABIYAS 1236
RAHAS 651
RABIYAT 577
*RISSLETTA 1201
NASEEM GSB
RISSLINA GSB
FOLLYANNA
5193
C 1949
TERHANI 1640
FARANA 708
HALAWA 733
FOLLYAT 827
BABYAT 460
FENZILEH 555
RAFAANNA
130922
C 1975
RAFFAMIRA
60423
C 1968
RAFFKAR 25096
KAREYMAS RAFFLES 13054
SKOWRONEKS WADDUDA 1187
ALBI AMIRA ANGEL 29863
ZEDAD 10508
ALBI DUCADO 16793
BINT JEZAAN
54126
G 1969
JEZAAN 16273
JEZRA 6928
SITANI 9621
HO HA SHARENA 16052
BROOKE 7613
RABABA 9960
Dam
FV AULUARI
361024
C 1986
AULRAB
194466
C 1979
AURAB
12488
C 1957
AULANI 1801
RIFNAS 924
FOLLYAT 827
RABNA 3622
NARZIGH 1745
RABKHAL 1402
ALARIEHA
34649
C 1965
GALAHAS 20950
TAHAS 7200
MY GALA 9750
RIEHABA 6539
ABU FARWA 1960
AMRIEH 2668
TABS ABUARI
170528
C 1977
TABUAR
37881
C 1966
TAHAS 7200
RAHAS 651
TAMMA 1348
ABUARI 4131
ABU FARWA 1960
ALARI 2679
SHAMROCK BEA
35017
C 1965
KARRADIN 13093
GALI-KARRAH 6304
GULDIN 4284
ROSE OF WILDWOOD 4327
GUDEA 2004
HAVANNA 1614
Return to top


Bloodline Percentages



Crabbet/Blunt = 71.1975
GSB (incl. Crabbet) = 77.0264
Davenports = 14.2578
Polish = 8.8623
Egyptian = 36.3995
WK Kellogg = 49.3652
CMK = 99.2188
Dickinson/Travelers Rest = 3.51563
Abbas Pasha Source = 31.3293
WR Brown/Maynesboro Stud = 43.457
North American Desert Source = 17.3828
Kellogg (all Kellogg owned horses) = 64.0625
Early American Foundation (vol V) = 100
American (thru vol VIII) = 100
Mesaoud = 16.568
Skowronek = 7.88574
Nasik = 9.0332
Zobeyni (Abbas Pasha) sire line
Ferida (Blunt) dam line
A Mu'niqi Hadruj of Ibn Sbaili

Percentages and research copyright by Eva Dano
Glossary: http://www.meranch.com/books/pctgs.htm

---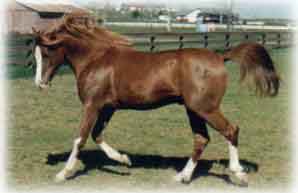 ---


...through his mane and tail the high wind sings,
fanning the hairs, who wave like feather'd wings.
-Shakespeare