---


Azria Liberty
---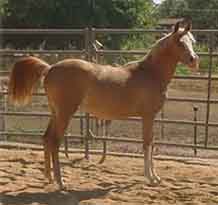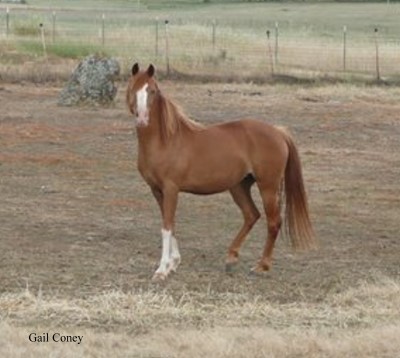 #624201
Chestnut Mare foaled July 4, 2003
Bred by Cynthia Feldman, Plymouth, Calif.
CMK (Crabbet / Maynesboro / Kellogg)
American Foundation Bred
60% Crabbet

---
Libby has a friendly, easy going, people oriented attitude. We are retaining her as a replacement for her dam in our herd. Beautiful flaxen mane with blaze, high socks in front and body spots, she is an eye catching mare. Non spooky attitude, big ground covering trot. Libby is a versatile mare and will make a nice broodmare later with multiple crosses to Aurab and Abu Farwa with Nat. Ch. Benraz, *Bask and multi-champion Aulrab. Granddaughter of Najih who sired the Tevis WINNER, Benjih. A combination of pretty, pedigree, performance ability and personality make her a very special mare!
---

About Pedigree
Libby is sired by our stallion, MV Soaring Wind, who has multiple crosses to Abu Farwa, which is proven to be top performance breeding. His sire, Nehalems Muhuli was a successful stakes winning race horse. Her paternal granddam, FV Auluari, was sired by Aulrab.
Her dam, Danajih Anne is a daughter of Najih, himself a Class A liberty winner and sire of the 2000 Tevis winner. Najih is sired by the great Ben Rabba (by Aurab) who was leased to stand at stud in England. Libby also has a line to Nat. Champion, Benraz (by Ben Rabba). Libby brings in a Polish outcross to her CMK pedigree via Danshab, a Gdansk son, he a son of the US National Champion Stallion Bask, and out of the imported Polish mare *Gdynia.
---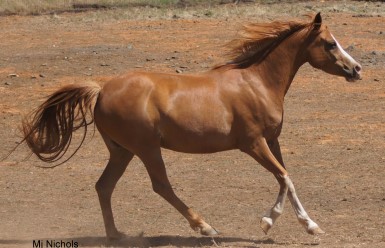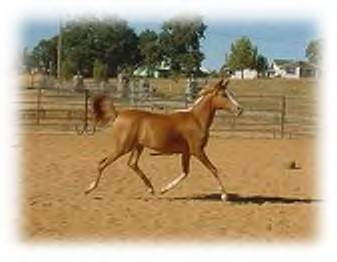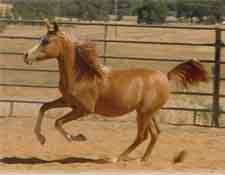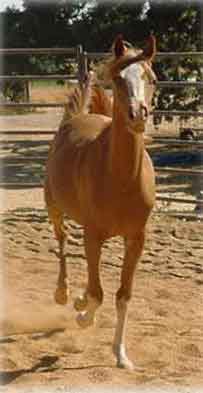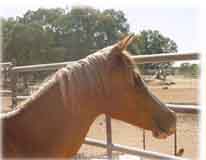 ---
Pedigree for Azria Liberty
Sire
MV SOARING WIND
511400
C 1994
NEHALEMS MUHULI
254200
C 1982
MUHULI
11717
C 1957
ABU FARWA 1960
RABIYAS 1236
*RISSLETTA 1201
FOLLYANNA 5193
TERHANI 1640
FOLLYAT 827
RAFAANNA
130922
C 1975
RAFFAMIRA 60423
RAFFKAR 25096
ALBI AMIRA ANGEL 29863
BINT JEZAAN 54126
JEZAAN 16273
HO HA SHARENA 16052
FV AULUARI
361024
C 1986
AULRAB
194466
C 1979
AURAB 12488
AULANI 1801
BRIDE ROSE 1462
ALARIEHA 34649
GALAHAS 20950
RIEHABA 6539
TABS ABUARI
170528
C 1977
TABUAR 37881
TAHAS 7200
ABUARI 4131
SHAMROCK BEA 35017
KARRADIN 13093
ROSE OF WILDWOOD 4327
Dam
DANAJIH ANNE
457369
B 1990
NAJIH
337363
B 1985
BEN RABBA
29921
C 1964
AURAB 12488
AULANI 1801
RABNA 3622
ROLLICKA 15286
SAROLLE 6171
COALANI 8419
NARAH BINT NEZIAH
138966
B 1976
NEZIAH 85494
GALAH 9867
NALYSA 10806
FALOWA 24131
FARLOWA 8545
COULYFA 11943
RS DANIELLA
243125
B 1982
DANSHAB
99984
G 1973
GDANSK 47458
*BASK 25460
*GDYNIA 25453
HALAL HABANERA 40003
TIRS 2048
URDANETA 3084
BENRAZELLA
123083
B 1975
BENRAZ 71993
BEN RABBA 29921
AZRAMIM 5863
JAMILA BINT BERSEYM 20167
BERSEYM 13985
TA-ROUFA 10273
Return to top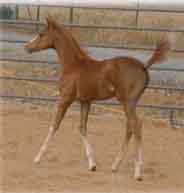 Bloodline Percentages
Crabbet/Blunt = 59.5539
GSB (incl. Crabbet) = 65.58535
Davenports = 11.15417
Polish = 17.5659
Egyptian = 44.7924
WK Kellogg = 40.3076
CMK = 88.08595
Dickinson/Travelers Rest = 13.476565
Abbas Pasha Source = 28.15455
WR Brown/Maynesboro Stud = 39.03805
Early American vol V = 92.96875
American (thru vol VIII) = 93.75
American (thru vol XV) = 100
Bedouin Source = 35.2234
Zobeyni sire line
Basilisk dam line thru *Bushra
Percentages and research copyright by Eva Dano
Glossary: http://www.meranch.com/books/pctgs.htm

---